Exclusively Dedicated to Serving the HR Community
BTHR Solutions is exclusively dedicated to serving the HR community nationwide. We provide contract staffing, permanent recruiting and comprehensive HR consulting services. Click below to see how we use our HR expertise to make life easier for employers and job-seekers alike.
BTHR BeneTemps specializes in providing experienced contract professionals at all levels to the Employee Benefits and Human Resources community.
BTHR Recruiting places highly-qualified HR professionals in permanent positions at all levels in Human Resources and Employee Benefits departments nationwide.
BTHR Consulting leverages our network of experienced professionals to deliver comprehensive Benefits & HR consulting and communications resources at highly competitive rates.
All HR Disciplines
We support all HR disciplines including HR Management, defined benefit, defined contribution, payroll, HRIS, health and welfare benefits, Workers' Compensation, leave of absence administration and more.
All Job Opportunities
We constantly update our job board with the latest opportunities. You can apply online, refer a friend, or email your resume directly to resumes@BTHRSolutions.com.
12/11
Unlike other recruiting firms who support HR and Employee Benefits recruiting as one of their "specialty" areas, that is our ONLY focus at BTHR Solutions. Over the last 40 years we have successfully placed thousands of highly skilled and experienced HR and Benefits professionals in both contract and perm jobs. Get in touch with us today to see how we can help you find your next great HR/Benefits team member!
https://lnkd.in/eza3pwT
04/09
With the January 2018 unemployment rate at 4.1%, chances are that if you're looking to hire a qualified professional you'll need to find a way to recruit a passive candidate who is already working elsewhere. At BTHR Solutions, we have decades of experience finding and recruiting passive candidates to new positions. It's not just about being able to find the qualified professionals you need, it's about making sure the interview process is well managed, the compensation package is well negotiated, and the final offer is actually accepted. Let us help you land the professional your team needs!
http://conta.cc/2swaONJ
05/29
If you're a benefits professional with a Massachusetts Life, Accident, and Health license, we have a great short-term opportunity. If you or someone you know might be interested, please contact us! 
https://lnkd.in/dWkDS7S
Viewpoint Newsletter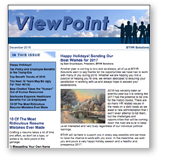 Viewpoint, our newsletter, delivers the latest news, notes and nonsense from the HR world. Find the latest HR news developments, hot job opportunities, and much more! Sign up for our newsletter by entering your email address in the box below or by contacting us directly at info@BTHRSolutions.com.